Scottish LGBTI+ Rainbow Mark launched to support inclusive social spaces
Five LGBTI+ organisations, including Highland Pride, have come together to launch a new initiative to promote and support inclusive spaces for lesbian, gay, bisexual, transgender, and intersex people across Scotland. The official launch took place on Thursday 30 June during Pride month at Wasps Creative Academy Inverness with over 50 people in attendance from all over the Highlands and beyond.
The Scottish LGBTI+ Rainbow Mark was developed with LGBTI+ people and aims to:
Increase positive LGBTI+ visibility
Provide information and tools to enable better LGBTI+ inclusion
Reduce isolation and minority stress for LGBTI+ people
Create more welcoming places in Scotland
Jessica Taylor from Highland Pride said, "Social and geographical isolation is a prevalent issue for our community in the Highlands– currently there are no dedicated LGBT+ social spaces in a geographical area of nearly 10,000 square miles, and this highlights the need to promote and support inclusive spaces so that people living here, or visiting, know they are welcome in their local café, library, or shop. Joining up with partner organisations to launch the initiative has brought together a wealth of knowledge, experience and expertise and we're very proud to be part of it."  
"We also know that many local organisations and businesses have been supportive of our work, and this gives us the opportunity to give something back to them whilst also benefiting LGBT+ people across Scotland and beyond."
Kathryn Pierce from Somewhere said, "LGBTI+ people have a right to an authentic life free from shame, harassment and discrimination. Social and business spaces are a huge part of everyday life and they have an important role to play in creating an inclusive society.
"We are delighted to have developed the Scottish LGBTI+ Rainbow Mark in partnership with our friends and colleagues across Scotland, which not only creates a new way for LGBTI+ people to feel welcomed and included, but also shows others how to be better allies.
"Alongside Somewhere's Rainbow Enterprise Network connecting up queer businesses across Scotland, the Mark has the potential to make a much-needed difference to so many"
Equality Network research, and close work with LGBTI+ people, shows that a lack of visibility, positive role models, and representation of LGBTI+ people have a significant negative effect. On the other hand, greater LGBTI+ visibility can have a significant positive effect, both on social attitudes and for LGBTI+ people themselves.
Scott Cuthbertson, Development Manager, Equality Network said, "Social spaces are important for all communities. Knowing social spaces are inclusive can make a real difference for LGBTI+ people who may be isolated or maybe just looking for somewhere they don't have to pretend to be someone else. We are pleased to be working with partners to [today, this month] launch the Scottish LGBTI+ Rainbow Mark to support more LGBTI+ inclusive spaces across Scotland. Visibility can have a big impact on reducing isolation for LGBTI+ people and knowing there are spaces nearby you can go to be yourself or meet others like you is one way we can help make Scotland more inclusive."
Deejay Bullock, CEO at Four Pillars said "This project is vital for our LGBT+ community members across Scotland, knowing and seeing a space is a safe space reduces fear & anxiety of just being out. Being able to sit in a venue and be comfortable in their own skin, being who they truly are, will have a positive impact on their mental, emotional, physical & sexual health".
Iain Campbell, Dumfries and Galloway LGBT Plus said "LGBT+ Visibility is paramount, this important project goes some way to enable both social and business locations to visibly show their support for our community. Having a safe space, that we can all go to and be ourselves. Helping to reduce isolation, anxiety, and fear, improving both the mental health and wellbeing of all is vitally important, not just for our own LGBT+ community but all communities across Scotland"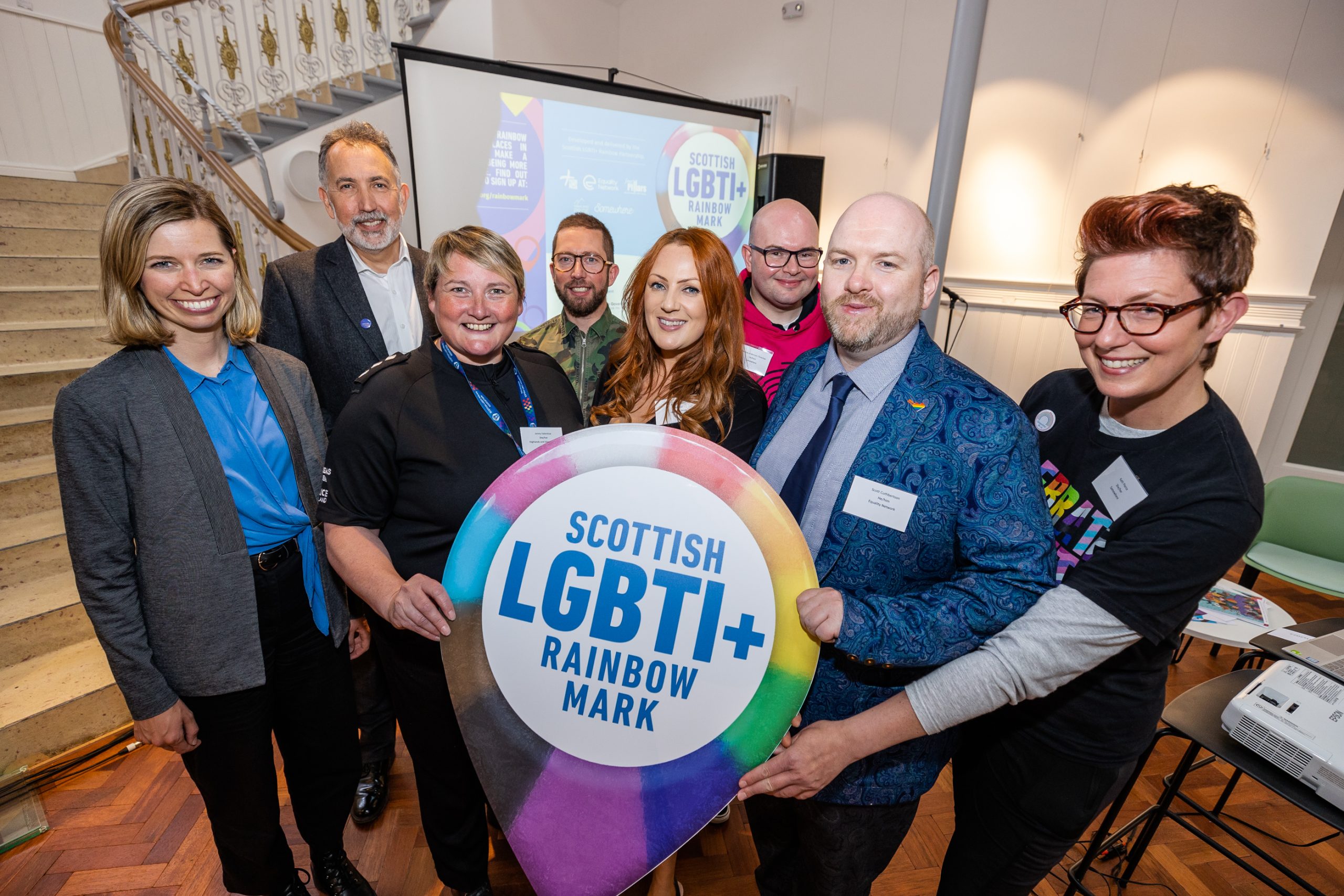 PHOTOGRAPHER CREDIT: Paul Campbell
Photo: Front row (l-r): Jenny Valentine, Highlands and Islands Police; Jess Taylor, Highland Pride; Scott Cuthbertson, Equality Network; Kath Pierce, Somewhere.
Back row (l-r): Rebecca Holt, Eden Court Theatre and Cinema; Dr Iain Morrison, UHI; Graham Munro, Leap Sport Scotland; Thomas Anderson-Thatcher, Somewhere.
BOOKMARK THIS PAGE FOR FURTHER ANNOUNCEMENTS!
Please Get In Touch…
Send us a message if you would like to know more about us, or if you need more information.