Frequently Asked Questions
Details may be subject to change as part of the planning process. Should this happen, we will inform all registered parade groups and ticket holders, and post updates on our social media and website.
Please email any enquiries to our Events team.
General
When and where is Pride? Our Pride event will take place on Saturday 22 July 2023 in Inverness. The parade will start at the Crown Primary School and end at the Pride Village, which will be in the Northern Meeting Park. 
Is there a dress code? There is no dress code. Dress yourself anyway you want and be proud of it. However, just don't offend, and NO nudity please. Remember, you will be parading through the centre of Inverness, and there will be young people and families at the event, so please dress appropriately.  
Can I bring my dog? Dogs are allowed. You are responsible for your dog's wellbeing including ensuring it is comfortable with the high noise levels and large number of people around them and of course other dogs. If your dog becomes aggressive, you will be asked to leave the event. Your dog MUST be kept on a lead at all times, and you are required to clear up after it, if it makes a mess. You could face a fine from Highland Council if you don't! If you do not follow these requirements, you will be asked to leave the event. 
What parking is available? Parking can be found at the Eastgate Shopping Centre (1000 spaces), Rose Street Car Park (850 spaces), Castle Street (40 spaces), Raining Stairs (78 spaces), Cathedral Car Park (72 spaces), Ardross Street (32 spaces) and Highland Council HQ Car Park (Bishops Road) (200 spaces).  It is your responsibility to pay for parking, where applicable. Information on charges is on the Highland Council website. We accept no responsibility for the accuracy or integrity of information on third party sites. Please DO NOT park in residential areas.
What's happening afterwards? Please check our social media channels, where we will promote any events that are being organised independently by other venues / groups. 
Parade 
By attending the parade, you agree to the following Terms and Conditions.
What time is the parade?  We will set off at 2.30 pm. 
What time should I be at the parade starting point? Please be there no later than 2.15 pm. 
Where is the Parade? We will be starting from Crown Primary School and proceed slowly down Stephen's Brae, along the High Street, over Ness Bridge, along Ness Walk, up Ardross Street, ending at the Pride Village at the Northern Meeting Park. Details of the entry point to the Pride Village will be added soon.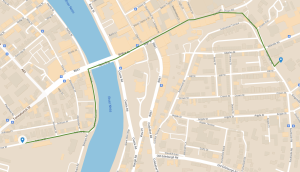 Who can take part in the parade? Anyone can take part in the parade. 
Do I need a ticket for the Parade? No tickets are required for the parade, just turn up on time! Please refer to the Pride Village section for details of entry arrangements into the Northern Meeting Park. 
Are there any age restrictions for taking part on the parade?  There are no age restrictions, but anyone aged under 16 must be accompanied by someone aged 21+.
How do I register a parade group? To assist with planning, if you're attending as a group of 10 people or more, we ask that you register HERE. 
What happens if I don't register my group? Unregistered groups will not be allowed to participate in the parade. 
Is there an order when we arrive? We will be operating an arrival queuing system, meaning the earlier you arrive, the closer to the front of the parade you are likely to be. (We do reserve the right to decide the order of groups in the parade and our Parade Manager will inform groups of any decisions about this on this on the day). If you're part of a registered group and you're running late, please join your group in the line-up, Hopefully those around you won't mind too much.  
For all parade participants, please respect each other and avoid queue jumping where possible. 
Can I join the parade at other locations along the route? Yes, but please be mindful of others already in the parade, and don't push in. 
Can we have a float? There will be no floats this year. 
Will there be any motorcycles leading the parade this year? No. 
Can we have a banner on the parade? Yes, banners are allowed. Just ensure it has NO bad language on it and it does not offend others, slander anyone else or go against Highland Pride's values. The same applies to placards and clothing. 
What's allowed in the parade?  Costumes, music, flags, noisemakers, banners, balloons, and smiles all welcome! Please no swearing, smoking, alcohol/drug consumption, nudity, offensive slogans/images, glass bottles or open flames. You must not hand anything out to onlookers.   
Is there disabled access? The Parade route is approximately 0.7 miles (1.2 km) long, although the surface may be uneven in places. The parade will be accessible for wheelchair users and people with reduced mobility from the bottom of Stephen's Brae. You're welcome to join the parade at any other suitable point along the route.  
Is alcohol allowed? No alcohol is allowed on the parade. Laws prohibit street drinking, so please don't do it. You could face a fine from Highland Council.  Alcohol will be available to buy at the Pride Village for those over 18, subject to a successful licensing application. 
Pride Village (Northern Meeting Park)
Please note that for safety and operational reasons, entry into the Pride Village will be restricted to 4000 people.
What time does it start? Gates open at 3 pm. 
What time does it end? The event closes at 8 pm.
Do I need a ticket for the Village area? Yes, please see HERE for more information.
Are there any age restrictions for entering the Pride Village? There are no age restrictions, but anyone under 16 must also be accompanied by someone aged 21+. 
Is there disabled access? The Northern Meeting Park is a mainly flat grassed area. It may get muddy in parts depending on the weather. There will be accessible toilets. Details of the accessible entry point will be made available nearer the time.
What's happening in the Village? There will be stalls, guest speakers and live entertainment. You will also be able to purchase food, drink and merchandise. 
Can I bring a bag with me? We understand that people may wish to bring a bag for personal reasons, and that's absolutely fine. However, we would ask you to only bring a bag if it's really necessary, as this may delay your entry into the Pride Village. For safety and security reasons, if you have a bag larger than a general size rucksack, you will not be allowed in. Exemptions will apply for accessibility and medical requirements.
Will there be bag checks? Yes, our main goal is to keep everybody safe and secure, so bags will be searched upon entry to the Pride Village. We ask that you remain patient whilst queuing and to co-operate with any security requests and searches. Any alcohol, illegal drugs, glass bottles or weapons will be confiscated. Please don't bring in liquids, including bottled water, this is because the security cannot eliminate its possibility of being alcohol. Free water will be available onsite – you may bring empty refillable water bottles.
Alcohol. Alcohol will be available to buy for those over 18. Please don't be tempted to bring your own! You will be searched upon entry and any alcohol confiscated before you will be allowed in. Any confiscated items will be disposed of. If you're seen with alcohol not purchased on site, it will be confiscated, and you will be asked to leave. All alcohol laws apply, no under 18's will be served, and challenge 25 will be in force so if you are under 25 or lucky enough to look it, please bring ID. If you're not sure, bring it anyway! If you're drunk, you will be refused service and may be asked to leave the village.  
Smoking & Vaping. Smoking and vaping are allowed. However, please be respectful of people around you.   
Entry to the Pride Village will be refused to any person who appears to be drunk, under the influence of illegal substances, acting in an abusive or threatening manner, or is violent.