EXHIBITION: Queerness and Queer Identity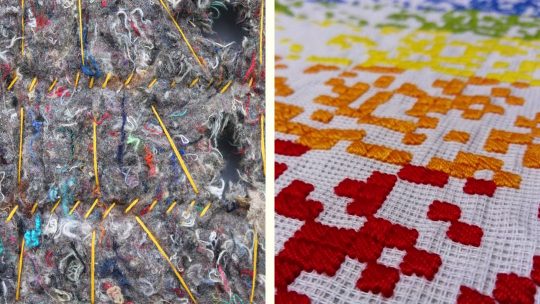 | | |
| --- | --- |
| Date: | Tuesday 4 February – Sunday 1 March 2020 |
| Time: | 10:00 – 22:00 (check for any opening time changes with the venue) |
| Where: | Upstairs Gallery, Eden Court Theatre and Cinema, Bishop's Road, Inverness, IV3 5SA |
| Cost: | Free |
| Tickets: | No need to book – just turn up! |
| Email: | |
Throughout February, Fiona Percy – artist at Threeninefive – will be displaying some of their current work upstairs at Eden Court Theatre and Cinema for Winter Pride and LGBT History Month.
Fiona Percy is a mixed media and textile artist based in the north of Scotland. A BA Fine Art, and BA (Hons) Fine Art Textiles graduate, Fiona was also recently selected for the RSA New Contemporaries Exhibition and short listed for VAS and the SSW graduate awards.
MORE INFORMATION FROM ARTIST FIONA:
There is an underlying theme of queerness, queer identity and the 'queering of place' running through my work. My Civil Partnership was the first ceremony to take place in Inverness in 2006.
The mattress used in the series 'Marital Bed: Stresses, Strains and Stitches' was purchased by my wife and I directly after our wedding and had thirteen years use before it was replaced. The chemises, made from the outer covering, are patterned on wedding gifts which had lain folded in a drawer since we received them. The yellow stitching echoes the original mattress seams, folds and tufting.
The ongoing work 'Queer Coding: Proud Ness' developed from an identity-based social art project run with the HISA LGBT+ Moray Student Group, the information was gathered at Proud Ness 2019. It is intended to show how people identify through multiple and overlapping areas not just the LGBT+ spectrum, giving participants a more rounded view of themselves and others.
Destruction is necessary for transformation, it may be I deconstruct a bed, it may be I reduce plant matter to reconstitute into rope or it maybe I destroy an illusion of self. Often the destruction is a re-absorption of elements. I use a combination of traditional hand working techniques such as knitting, crochet, rope making and stitch which allow me to engage physically with the work. Repeating, returning and re-cycling and recording through the creative process in a continuing loop.