EXHIBITION: Highland Pride History – Past and Present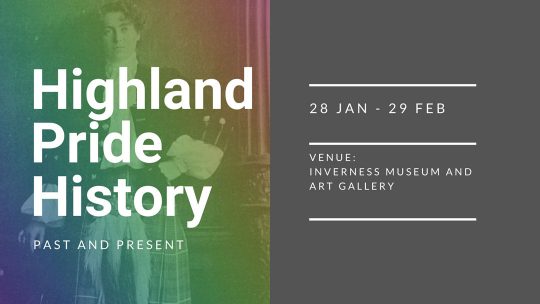 | | |
| --- | --- |
| Date: | 28 January – Saturday 29 February 2020 |
| Time: | Opening times vary – see details below for more information |
| Where: | Inverness Museum and Art Gallery, Castle Wynd, Inverness, IV2 3EB |
| Cost: | Free |
| Tickets: | No need to book – just turn up! |
| Email: | |
Robyn Dylan Whyte from Highland Pride and Inverness Museum and Art Gallery bring you this community exhibition for Winter Pride as part of LGBT History Month, featuring interviews with leading members of our modern day LGBT+ community and profiles of historical figures linked to the Highlands.
The museum is open Tuesday to Thursday, 12.00pm – 4.00pm, and Friday to Saturday, 11.00am – 4.00pm (NOTE: closed Sunday and Monday) and admission is free. You'll find our exhibition on the ground floor, near the main entrance doors.
Leading Members of our Modern-Day LGBT+ Community:
• Rosemary Roscrow has been involved with the Highland LGBT Forum for a number of years, including chairing the organisation during the Highland's first ever large scale pride event in 2018, formerly called Proud Ness. Rosemary also chairs Swans of Scotland, a support group for trans people living in the Highlands.
• Sand Owsnett, current Chair of the Highland LGBT Forum – the official charity which looks after Highland Pride – runs LGBT+ social groups in Caithness and is also a regular contributor to UnDividingLines magazine, a digital magazine for the LGBT+ people living in the Highlands and Islands.
• Kevin Crowe has been involved with a number of LGBT+ projects in the Highlands, including the Highland LGBT Forum and the Pink Philosophy Club and was the convener of the Highland LGBT Writers' Group. He has been a key supporter of – and contributor to – UnDividingLines magazine since its inception. The magazine also took home the Arts & Media Award in the 2019 Proud Scotland awards. Kevin is also a published author in poetry, short stories, essays and book reviews.
Historical Figures Linked to the Highlands:
• Lady Vere Hobart , most famously linked to Anne Lister whose life has recently been made into a BBC drama series 'Gentleman Jack', was married to Donald Cameron – the 23rd clan chief of the Cameron's of Lochiel.
• Lady Constance Mackenzie, the second daughter of the Earl of Cromartie, was a keen sportswomen and favoured what was considered masculine clothing.
• Sir Hector MacDonald, who grew up near Dingwall, led an extraordinary life becoming a war hero and a respected general. Later in his life he was rumoured to have had sexual relations with schoolboys and men.