'The Sisterhood' book reading by trans author Roz White & music by Tegan Sommers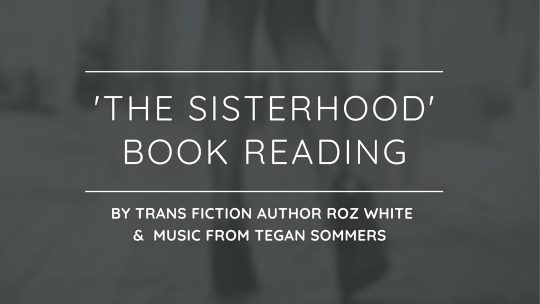 | | |
| --- | --- |
| Date: | Monday 3 February 2020 |
| Time: | 19:00 – 22:30 |
| Where: | MacGregor's Bar, 109-113 Academy Street, Inverness, IV1 1LX |
| Cost: | Free |
| Tickets: | |
| Email: | |
As part of our Winter Pride festival, and to celebrate LGBT History Month, trans author Roz White and musician Tegan Sommers will bring you a night of book readings and music in the Vault at MacGregor's Bar in Inverness from 7.00pm until 10.30pm.
Author Roz White: has been writing in one form or another since her early childhood, but it was only in 2011 that her first novel appeared on the Lulu self-publishing platform (what ought to have been her PhD thesis appeared some years earlier). In 2014 she completed the first in her ongoing series 'The Sisterhood' and book 8 is now nearing completion! On the night she will read excerpts from 'The Sisterhood; novels though it is perfectly possible that some of her latest project 'The Steampunk adventures of Lady Ghast' might also get an airing!
As her alter-ego H.A. Douglas, Roz has also written a handful of authentic and atmospheric historical novels, set in the Viking Age of Wirral and Orkney. Now resident locally in Ross-Shire, she looks at the landscape and history around her and wonders if perhaps it is time for a few more, set on that volatile border between Pict, Scottish and Viking…
Musician Tegan Sommers: Hailing from Glasgow, Tegan is a guitarist and bassist with talent in a good many other instruments besides! Presenting her own interpretations of well-known songs (and some perhaps not so well-known, though they should be), an evening with Tegan is lively, engaging and fun!
Tegan was the keystone of Glasgow's LGBT Health and Wellbeing's "T and Jam Band" and through 2018/19 playing with the band in a series of well-received gigs at Prides and other events across the Central Belt. Now her ongoing tour comes to Inverness, kicking off Winter Pride and LGBT History Month in the best possible style!
Tickets are free. However, please secure a ticket on this page.
PLEASE NOTE: There is a flight of stairs to the Vault Room in MacGregor's Bar which may not be suitable for those with mobility issues.